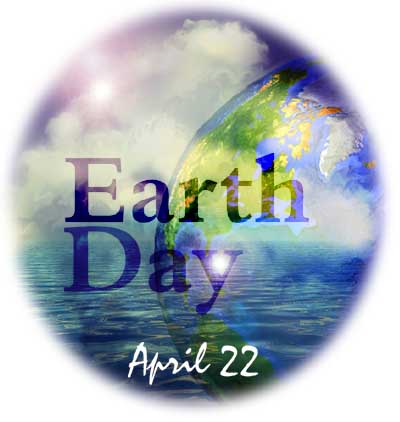 Today is Earth Day. Its a day I never really gave much thought to. I recycle my newspaper and plastics and cardboard and I figured that was good enough. Well, was I ever wrong. I was shocked to hear some statistics on an episode of Oprah last week. Did you know it takes 1,000 years for one plastic grocery bag to break down? Or that it takes 14 million trees to produce paper grocery bags?! I always thought I was doing a good thing by choosing paper and reusing all my bags whether paper or plastic but these statistics really floored me. I'm going to purchase some canvas shopping and produce bags and stop contributing to so much waste. Oprah also featured an interesting story of a couple whose young son was suffering from asthma. They went back through the family history and no one had the same affliction. They figured out the cause was the household cleaning products they were using - regular everyday stuff that we all probably have in our kitchens and bathrooms. They switched to products by a company called Shaklee and their son's asthma disappeared. They ended up buying the company and are offering a great discount on their cleaning products. Check them out here. I ordered some for our home and will let you know how they are once the arrive. In the meantime, we should all try to do what we can to make sure we leave behind a vibrant Earth for the next generation.
On a fun note, I did finally get to the flea market!! Yea! They actually opened today! I found some great vintage postcards and beads. I'll have to take some photos and post later. Below is a photo of some collages I worked on last week. A few went out to some friends, but I'm not saying who! :) I'm not quite sure what I'm going to do with the bird collage, if anyone is interested in a trade, let me know. Leave a comment or e-mail me at
kookykarla@yahoo.com
.